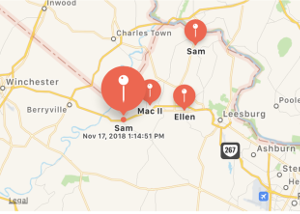 Phone Tracker Pro is a free app which enables you to share your GPS locations with others in your circle.
Phone Tracker Pro Free App Features
Just enter a username, password and nickname to create an account. You can use the same account for up to 10 devices. You can also invite others to your GPS circle. They just download the app, create their own account, and enter the passcode you send them. Once they've joined your circle, you can view their GPS locations and they can view yours on the control panel (View Data button).
You can also view others locations: click Pings from the control panel menu. Select a device and a list of most recent pings by date are displayed. Click on one, and a map will display the location for that date and time.
You can remove members you have invited or devices on your account any time from the device options screen of the control panel. You can also cancel your account at any time from the the control panel's Cancel link.
GPS location data recorded from the device is available 24/7 to you by clicking "View Data" as well as when you log into your personal control panel at PhoneTrackerPro.com using the username and password you provided when you installed the app on your device. Phone Tracker Pro uses the internet connection on the device you installed the app on to send data over the Internet to our central server.
Top reasons why you should try Phone Tracker Pro:
Installation is fast and free of charge
Compatibility with over 90% of devices
You can keep in touch with your family, friends or employees, by sharing GPS locations with one another.
Easy access from app or online anytime you log into our website, 24/7
This is not a hidden app. You may only install and use the app on a phone which you own or a phone for which you have obtained permission to install the app from the owner.
Home Terms FAQ Privacy Control Panel
Spy Phone ® is a registered U.S. trademark. Phone Parent are pending U.S. Trademarks.Spy Phone Labs LLC is a U.S. based company located in New Jersey. Android ® is a registered trademark of Google ® : Samsung ® is a registered trademark of Samsung.